Massage is not some recent beauty advancement. It is been there for centuries. This was used as a medicinal treatment in ancient times for its soothing benefits for both mind and body. With that in mind, Moon Lake Spa organized its service oil massage in Vienna. Where you can have the true essence of authentic massages in Vienna.
Essence of oil massage
The application of natural oils to the skin while receiving a massage is known as an oil massage. it is also known as aromatherapy massage. These oils can be perfumed with essential oils for further relaxation and aromatherapy effects. They are often selected for their calming and nourishing qualities.
An experienced massage therapist manipulates the muscles and tissues during an oil massage while the oil aids in reducing friction and enables fluid, gliding motions. This kind of massage helps you feel renewed and refreshed by promoting relaxation, lowering stress, and improving skin moisture.
Oil massage benefits for the body
Stress reduction and deep relaxation
Oil massage is incredibly soothing and aids in lowering stress levels. Warm oil and calming strokes help quiet the nervous system, bringing about a sensation of peace and relaxation. While having a couple Massage Vienna you can ask for an oil massage to enhance the pleasure of the experience with your partner.
Oil massages on the body increase blood flow. This contributes to the effective delivery of nutrients and oxygen to different bodily tissues and organs, enhancing general health.
Health of the muscles and joints
Oil massage can assist in easing stiffness and tension in the muscles. As it can increase joint flexibility and lessen discomfort, it can also be helpful for those with joint issues.
Oil massage can help the skin look and feel better. It hydrates and feeds the skin, making it supple and smooth. Oils that are high in antioxidants, such as coconut oil or olive oil, help shield the skin from harm.
Oil massage helps ease a variety of aches and pains, including menstrual cramps, backaches, and headaches. The massage eases stiff muscles and lessens the sensation of discomfort.
Benefits for the mind
Oil massage fosters a stronger connection between the mind and body, lowering cortisol levels, that cause stress.
Oil massage promotes relaxation, reducing stress and anxiety
It can enhance mood and emotional well-being.
Massages before bedtime aid in falling asleep faster and enjoying deeper, more restful sleep.
Aids in clearing the mind and improves concentration.
Fusion of facial and massage
The combination of facial and massage therapies produces a potent synergy for thoroughly addressing body and beauty issues. Along with improving relaxation and lowering tension, this mixture also supports improved lymphatic drainage, skin renewal, and blood circulation. Facial services like Hydra Facial Vienna enhance the health of the face skin by minimizing fine lines and enhancing a youthful glow.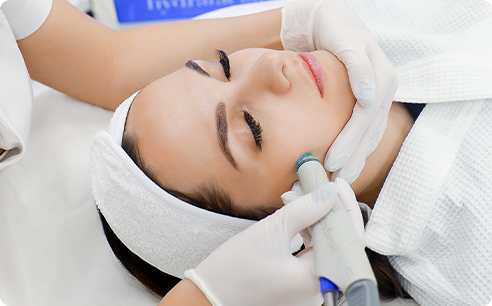 While body massage reduces muscle stress, it also tones the body and helps with posture. This all-encompassing strategy improves mental and emotional health, encourages the mind-body connection, and can be customized to deal with particular issues. A comprehensive wellness plan for maximizing one's appearance and physical well-being is created through regular sessions mixed with a healthy lifestyle.
How our Spa in Bethesda MD is your perfect beauty partner?
So far, you have learned about the technicalities of various massages and how facials and massages can comprehensively deal with your body and beauty concerns. Now, is the time to see the need of having the right spa to get such services. If you are here then you already are at the right place. Wondering why? Well, we will give you a few reasons to soothe your curiosity.
Moon Lake Spa is one of the reputable spa service providers in Bethesda MD. Their experience in the field makes them the best compared to the rest. Moreover, it is a one-stop solution to have a variety of beauty services.
Spas provide a variety of services, such as facials and massages, that may be tailored to your specific aesthetic needs and objectives.
Spa treatments offer a peaceful atmosphere that encourages relaxation, lowering stress levels that may have an adverse impact on your looks and general well-being.
By treating issues like acne, aging, or uneven tone, facials and skincare procedures may enhance skin health and leave you with a bright appearance.
Massages and body treatments help to improve circulation, muscular tone, and general well-being of the body in addition to relieving stress.
Conclusion
In the end, we would just say if you want to have the essence of the right massage or any other beauty service, give us a chance. We assure you that we will cater to all your beauty and body needs in the best possible manner.