Revive your body's shine at Body Polish Spa Vienna
The idea of body polishing is getting all the heat that it very much deserves. Basically, body polish is a fancy way of exfoliating your body to revive its lost shine. But the catch here is whether or not you have the right spa to get this beauty treatment in its true form. This is where Moon Lake Spa your perfect body polish spa Vienna comes into the picture. 
With numerous on-point beauty services and authentic services, we offer services that are hard to find anywhere else. so, if you are in search of authentic body treatments spa Vienna then Moon Lake Spa is your perfect answer. From detailed services to perfect ambiance to quality products, you get a perfect package with us.
In this article, we will see how we can help you revive your body's shine with our exclusive beauty treatments. So, stick with us till the end, believe us, you are in for a great learning experience.
Body polishing essence
If you think that body polish is some new fancy treatment that only actresses and celebrities can afford, then you are utterly mistaken. This is an ancient beauty treatment that has been among us for centuries. As for the cost, this treatment is not as costly as it may sound. We know, it may sound like something BLING BLING with quite a cost, but in actuality, it is not. You can easily get it from any spa near you, but one thing is certain the nearby spa won't be as good as we are. So, this is something you need to consider.
Renew your spirit
Your body does so much for you. don't you think you should do something in return for it? It should have its well-deserved break every now and then. So, having our therapeutic massage Vienna could do the trick. Fusing a good massage with body polishing will not only provide the lustrous glow to your body but also provide the muscle relaxation to your body it deserves. Thus, we can confidently say that Moon Lake Spa can be your ultimate relaxation partner, consider us, to enjoy the exhilarating soothing yet cleansing experience. 
What you can expect from our body polish spa Vienna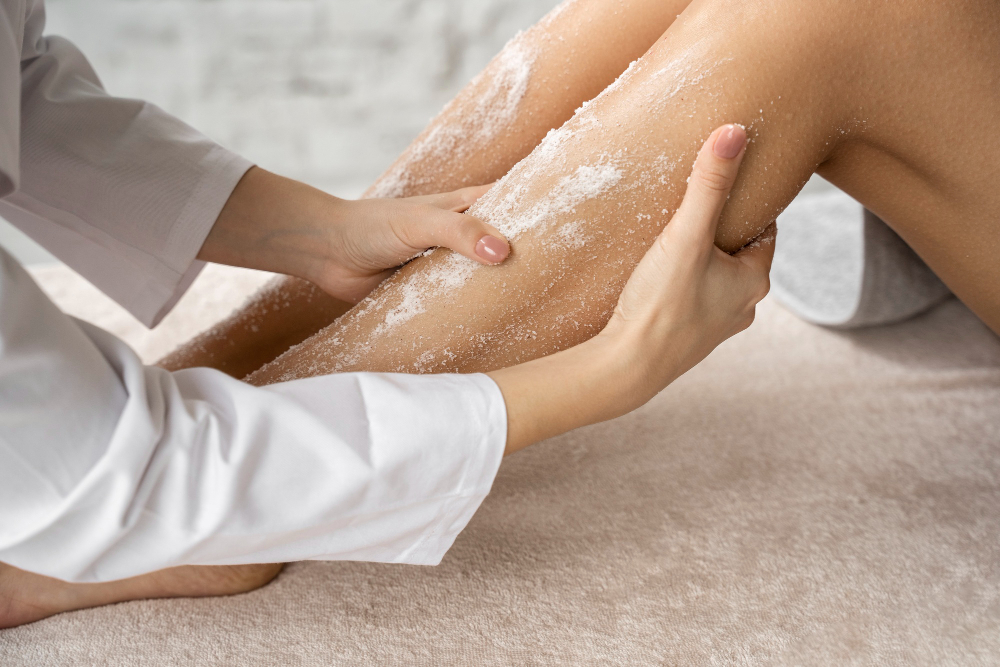 Moon Lake Spa is a distinguished spa that is known for its best beauty treatments in Vienna. So, from facials, to massage to body polish you can expect almost everything from us. If you are still not convinced and need a reason to consider us, here are a few;
First and foremost, we are not amateurs in our field. All the beauty treatments we offer are one of a kind in this sector. So, with us, you can have the assurance that you are in safe hands regardless of the service you are having. 
Whether you want to experience the best oil massage in Viennaoil massage in Viennaor need cleansing body exfoliation treatment, you can have the assistance of the best personnel you can have. Our qualified beauty experts know their work like the back of their hand. So, trust us when we say that you can't have services like ours with any other spa in Vienna.
With great services, we offer great packages as well. But you need to check our website every now and then to get benefit from our exclusive packages. From facials to massages to beauty treatments, you can get the best packages in your area with us.  
The essence of any spa is its ambiance. We understand this like no one else. That's why we are offering the ambiance to our clients where they won't just get body treatments but can also relieve their stress. We offer the perfect getaway to provide you with a relaxing experience at its best. 
Last but not least, we offer our services at the most competitive market price. Regardless of the service you are getting you will have the most reasonable price options. 
Conclusion
We are going to conclude this article by just saying that, if you are looking for a place to have the epitome of services at its best, then MOON LAKE SPA is your best friend. Give us a chance, we assure you that you will come back to us. So, don't waste a second and reach us, we will make your every penny worth your experience.